Transport Denmark
Transport in, from or to Denmark?
We make it happen.
We move your goods, no matter if it's in bulk, LTL or FTL. Based on your requirements, we find the best solution. It might be by road, multimodal, by our own means or through one of our trusted partners. That's how we have been serving thousands of shippers globally for almost 75 years.
Transport in, from or to Denmark?
Denmark is an important destination for our fleet. We organize hundreds of shipments to and from Scandinavia every week, be it by road, rail or in conjunction with one of the ferries.
With different types of equipment we are capable to successfully arrange transports in, from or to Denmark, such as:
Our types of transport in Denmark
Clean and efficient transport solutions
Sustainability matters to us. That's why we always aim to work in the most efficient way. We do so by reducing empty mileage as much as possible. Besides us being true pioneers in the development of sustainable transport solutions using alternative fuels such as LNG and HVO100, we also innovate on trucks that can carry loads of up to 160m3 and even 200m3 each (Ecocombi (LZV) and Ecocombi (XL)). Lowering costs and CO2 emission has never been so simple!
In our aim for clean and efficient transport solutions, we use Ecocombis (25.25 m) wherever allowed and feasible. As developments relating Ecocombis are dynamic, contact our specialist about the use of Ecocombis in Denmark.
 
Want to learn more? We are here to help!
Want to learn more about what we can do to simplify your business? Let us know! Our team is ready to tell you more about transport in, from or to Denmark. Want to know in which countries we also transport goods on a daily basis? Have a look at the other countries in which we operate.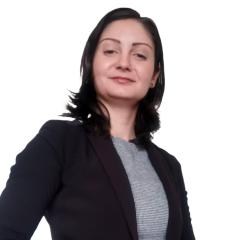 A challenge?
I make it simple.
Alexandra Bolog
Logistics Expert