Expedition
Moving your cargo anywhere throughout Europe!
If it's a single pallet or a full truckload, we simply deliver.
We pick up at your doorstep and deliver to any business address. We take care of both the physical movement and documentation also when customs formalities are involved.
Depending on the requirements, we move your goods in the most efficient manner: by road, rail, air, sea or a combination of these (multi- and intermodal).
Line services for groupage shipments
Our groupage services are performed throughout Europe in close cooperation with exclusive agents in the main industrial areas. You can rely on true expertise for your shipments to and from a variety of countries.
For cargo to and from those parts of Europe where we don't maintain our own regular line services, we work together with our partners in the market so that we can provide our customers with reliable solutions for those destinations and origins as well.
A glance at our road freight services per country: 
|   | Country | Frequency |
| --- | --- | --- |
| | Bulgaria  | Semi-weekly |
| | Greece  | Semi-weekly |
| | Italy | Daily |
| | Poland | Daily |
| | Portugal | Daily |
| | Romania | Semi-weekly |
| | Spain | Daily |
Is your destination not listed? We also service many more countries throughout Europe and even worldwide.  
Quality guaranteed
All our service providers are approved Suppliers according to ISO standards. We service many leading companies in a variety of industries including healthcare, hazardous and non-hazardous chemicals, food and feed, packaging, construction materials and retail products. Naturally, we have all of the required certificates such as ISO 9001, ISO 22000 and ADR.
We:
Match your goods with the right equipment like temperature controlled trailers

Provide all the insurance services that are needed

Provide correct packaging and labelling

Take care of fairly complex shipping requirements, in a cost-effective way

Use modern computer systems for optimal freight forwarding and management.
Freight forwarding: why choose Vos Logistics?
The combination of our inter-continental and European freight forwarding services, our own fleet of trucks and European distribution centres, enable you to profit from a true world wide solution for your logistic challenges.
Do you want more information about how we can add value to your business by choosing our freight forwarding solutions? Please contact us, we will inform you about the possibilities!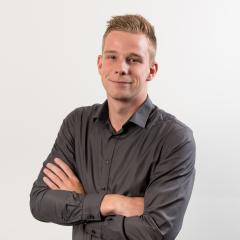 A challenge?
I make it simple.
Joeri Strik
Logistics Expert