Transport Sweden
Transport in, from or to Sweden?
We make it happen.
Domestic deliveries on time. Incidental or on regular base. We are happy to meet your agreements with your customers. Got a challenge? Bring it on! 
Transporting your goods in, from or to Sweden?
We'll take care of it. With hundreds of loadings and deliveries per day and more than 30 years of experience in Sweden transport, our history with transport in Sweden goes back for decades. We know and understand the geographical transport challenges in Sweden and the expectations of Swedish shippers. 

We take care of our drivers and make sure your logistics is carried out in compliance with European and domestic regulation. We choose the best modality with regards to the requested transit times and customer requirements.
 
Our services:
Our types of transport in Sweden
Transport in and around Sweden
Moving goods to and from Sweden requires special attention. Vos Logistics is a leading carrier in Europe particularly active in transport for automotive, FMCG, packaging, personal care, apparel and construction industries. We move thousands of shipments monthly, mainly in connection with one of the ferry operators. We arrange transport using ferries, trains and trucks. Depending on exact destinations and transit times, we advise you on the optimal routing and port of entry. We then collect and deliver your LTL, FTL, packed and/or bulk cargo.
 
Clean and efficient transport solutions
With a strong focus on sustainable solutions, we drive our international LNG trucks to and from Sweden. Upon request, we fuel up with HVO100 (biodiesel) and provide you with the proof. We are proud of the fact that we are one of the few carriers who are allowed to operate an Ecocombi XL (with 2 x a 13.60 trailer), which basically means that we can move two loads in one trip.
There are many alternative solutions to move goods to and from Sweden, impacting service levels, cost and CO2 emission. Consult our professional for the best solution.
In our aim for clean and efficient transport solutions, we use Ecocombis (25.25 m) wherever allowed and feasible. As developments relating Ecocombis are dynamic, contact our specialist about the use of Ecocombis in Sweden.
Our integrated sustainability program helps us further reduce our carbon footprint year after year and ensures a cleaner and more efficient supply chain. We set ourselves challenging environmental goals and help our customers realize theirs. Innovation is our key driver.
 
We take care of our employees
As an internationally operating company, We take pride in our highly diverse workforce, which is built up of as many as 25 nationalities. We invest in a strong corporate culture and have shown a continued ability to attract and hire adequately qualified and talented employees in a challenging labor market. We take care of our employees: by offering good working conditions and facilities, training and development possibilities, and by providing the best equipment and tools.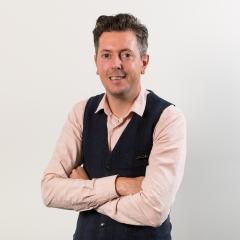 A challenge?
I make it simple.
Paul Kooijman
Logistics Expert