Customized transport solutions
Solutions that fit you just right.
Volledige ontzorging van jouw transport uitdagingen? Bij ons kan het!
Ben jij op zoek naar klant specifieke maatwerk transport oplossingen? Ook dan ben je bij ons aan het juiste adres.
Met ons uitgebreide wagenpark bieden wij uiteenlopende transport oplossingen aan. Denk aan leveringen met normale opleggers op distributiecentra tot aan leveren op (bouw) locaties met een laadkraan. Wij hebben een duurzame oplossing voor het transport van FTL en LTL zendingen binnen de gehele Benelux.
Een passende oplossing, waarbij veiligheid, service, betrouwbaarheid en snelheid garant staan, staat daarbij altijd centraal. Wij nemen de tijd om jou als klant te leren kennen en om jou een oplossing aan te bieden welke zal bijdragen aan de strategische ambities van jouw bedrijf. Wij begrijpen de service vereisten van jouw klanten en wat er nodig is om de klantbeleving naar een hoger niveau te tillen. Hiermee kunnen wij jou ontzorgen met betrekking tot jouw transport uitdagingen.
Containertransport
Container transport is a versatile way of transporting your products by road, rail or sea. With our specially designed chassis we transport your containers in different configurations (20", 40" and bag in box) from and to the various European ports or directly to your customers. Delivery of the containers to one of our storage locations is another option; here we can handle inbound logistics for you as well.
Container transport is one of our main activities and has been for many years. As our tri-modal terminals are connected by inland waterways to the ports of Marseille (FR) and Rotterdam (NL), your containers can easily be transported by our trucks with multifunctional container chassis (e.g. D-TEC).
Wil je meer weten over wat wij kunnen betekenen voor jouw custom-made transport oplossing?
Wil je meer informatie over wat wij kunnen doen om het voor jouw bedrijf eenvoudiger te maken? Laat het ons weten! Een team van professionals vertelt je graag meer over een passende oplossing.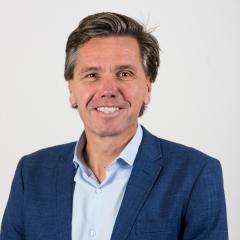 A challenge?
I make it simple.
Marcel van Etten
Logistics Expert Solutions