People (2021)
Attracting and retaining talent
Labour market
In 2021, Vos Logistics continued to prioritise attracting and retaining top talent. The labour market shortage throughout Europe and the continuing challenges of the global pandemic required a determined, consistent, and creative approach. As parts of the company grew rapidly, our people played an impressively proactive role in recruiting new colleagues through our referral program, further strengthening our workforce.
Training and development
As part of our commitment to recruiting and retaining top talent, we ran several training programs throughout 2021. We encouraged career changes throughout the organisation and many colleagues progressed their careers within the company.
Work environment
Vos Logistics continued to modernise and harmonise working environments throughout the company in 2021. For example, in The Netherlands, we opened a stunning new 25,000 m2 BREEAM 5 star certified distribution centre in Oss. The new facilities represent another important step in strengthening our market position in the Benelux and becoming even more sustainable as a company. In Poland we modernised our offices with significant renovations.
Health
The 2021 sickness leave rate of 4.76 % increased from 4.40% in 2020, an overall increase of 0.36%. More specifically, there was an increase of 0.58% for direct personnel and a decrease of 0.38% for indirect personnel.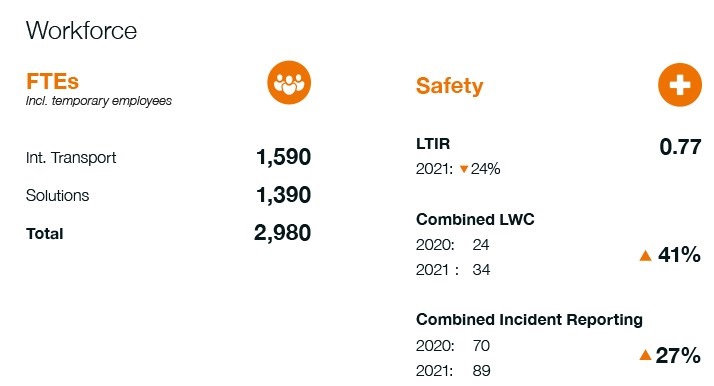 ---