Transport Portugal
Transport in, from or to Portugal?
We make it happen.
Vos Logistics - your partner in international transport. We Simplify. Whatever it takes.
Transport in and around Portugal
Freight to or from Portugal? Use  our effective and cost-efficient LTL- or FTL-transport solutions; by road or with the help of various multimodal routes, for example between Sweden and Lisbon.
With different types of equipment we are capable to successfully arrange transports in, from or to Portugal, such as:
Our types of transport in Portugal
Safe, clean and responsible transport in Portugal
Sustainability matters to us. It is a key-value within everything we do. Not only are we investing in sustainable relationships, but we recognize our responsibility for a healthy and safe environment, today and in the future. Our sustainability programme helps us to reduce our carbon footprint year after year and ensures a cleaner and more efficient supply chain.
With the growing awareness of sustainable transport solutions in Poland, our international fleet of LNG trucks is growing gradually. This is directly related to the availability of LNG fuel stations. In case you are interested in the developments relating LNG in Poland contact our specialist on LNG.

Want to learn more? We are here to help!
Want to learn more about what we can do to simplify your business? Let us know! Our team is ready to tell you more about transport in, from or to Portugal. Want to know in which countries we also transport goods on a daily basis? Have a look at the other countries in which we operate.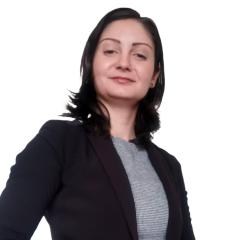 A challenge?
I make it simple.
Alexandra Bolog
Logistics Expert