Freight Forwarding
International Freight Forwarding
Moving your cargo anywhere throughout Europe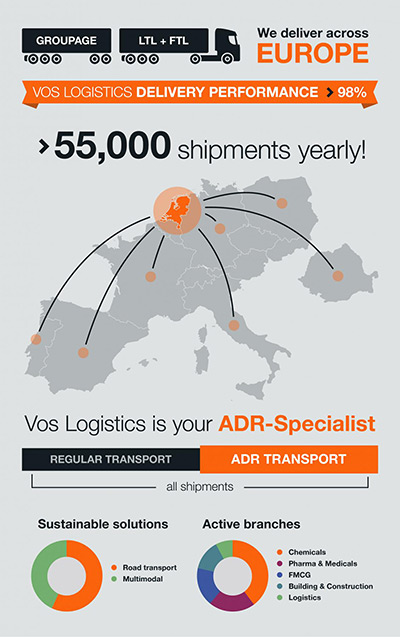 Your customers expect professional customer service, on time delivery, short lead times and transparency. We guarantee an exceptional consumer experience and combine sharp rates with a high delivery performance. Simple as that!
At Vos Logistics, we make sure that you can completely focus on your business, while we take care of your transport challenges.
Why Vos Logistics?
We offer sustainable transport solutions within Europe on a daily basis. No matter if this concerns a groupage, LTL or FTL shipment. Next to that, we are experts in ADR and temperature controlled transport. For last-mile distribution in the countries of destination we work together with several trusted parties. By providing our in-house custom activities, online portal and 100% track & tracing, Vos Logistics is your one-stop-shop transport partner.
Project-, ad hoc- and express shipments
Next to contracted shipments, we are also able to help you with project-, ad hoc- and express shipments. Do you have an incidental or a rush order? We have the solution!
IT
At Vos Logistics, we have a strong backbone in IT to support all transport activities. Your systems can simply be integrated by an EDI connection. That way we can make sure that data exchange is optimal and manual errors are avoided.
Quality
Vos Logistics itself and our partners are ISO certified. Working with top industry players with high quality demands, we hold expertise in the areas of healthcare, dangerous and regular chemicals, packaging materials and retail.
Next steps
Are you curious how we can add value to your business? Get in touch with our logistics expert to find the right solution for you.
A challenge?
I make it simple.
Remon Veldhuizen
Logistics Expert