Customized transport solutions
Solutions that fit you just right.
Complete unburdening of your transport challenges? Meet Vos Logistics.
Are you looking for customized transport solutions? Look no further.
With our extensive fleet we offer a diverse range of transport solutions. Think about deliveries with regular trailers at distribution centers to deliveries at (construction) areas with a loading crane. We have a sustainable solution for the transportation of FTL and LTL shipments in the entire Benelux.
An appropriate solution, where safety, service, reliability and speed are guaranteed, is always central to this. We take the time to get to know you as a customer and to offer you a solution which will contribute to the strategic ambitions of your company. We understand the service essentials of your customers and we know what is necessary to elevate the customer experience to a new level. With that we are able to unburden you concerning your transportation challenges.
Container transport
Container transport is a versatile way of transporting products by road, by rail or across the sea. With our specially designed chassis we transport your containers in different setups (20", 40" and bag-in-box) from and to different European harbors or directly to your customers. It is also possible to deliver the containers at one of our storage locations, where we can also take care of your inbound logistics.
Container transport has been one of our main activities for years. Our trimodal terminals are connected by inland waterways with the harbors in Marseille (FR) and Rotterdam. So our trucks with multifunctional container chassis can transport your containers easily (i.e. D-TEC).
Do you want to know more about what we can do for your custom-made transport solution?
Do you want more information about what we can simplify for your company? Let us know! A team of professionals is happy to tell you more about an appropriate solution.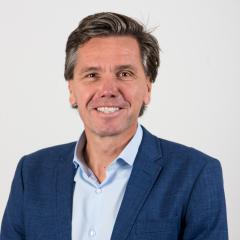 A challenge?
I make it simple.
Marcel van Etten
Logistics Expert Solutions