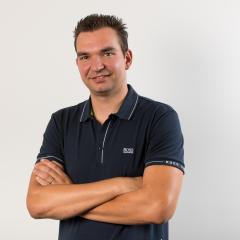 Roy Schuurmans
Handling & Storage Expert
Storage
Your goods stored safely at our terminals.
We simply take care of your products.
Our Bulk terminals in Oss (The Netherlands) and Lyon (France) offer a wide range of possibilities for handling and storage of dry bulk goods.
Plastic resins (Petro-chemical) cover a big part of our specialism, however we are also experienced in food, feed, additives and minerals. All is taken care of in dedicated storage locations with dedicated equipment. We are able to store your product in silos of various sizes, but also offer indoor and roofed storage of packaged goods.
Need a more customized solution?
If you require, we can add value to your goods, for example, by packing, bagging, re-packing, de-bagging and palletizing. Depending on the product itself, volume to be stored and availability, we will come up with the best solution for you.
Depending on your requirements we can also dry, blend, mix, homogenize or sieve your product. 
Our partnership with Vos Logistics is very valuable to us. Working together with Vos Logistics is pleasant in every way. They have proven to be a reliable partner with all the necessary knowledge of our delicate products. But first and foremost, they actively help us in finding the right solutions for our business. 
Tony Correira - Cotra Logistics Solutions BV
Total of 45 and 26 silos of different sizes in Oss (NL) and Lyon (FR)

Total of 40,000 m2 storage space of which 16,300 m2 indoor in Oss (NL)

Storage of dry bulk and packed goods in octabins, big bags, sacks, IBCs, etc.

Dedicated Food area.

ISO 9001, ISO 22000, USDA NOP, GMP+ B1, AEO and BIO certified.
Flexible agreements
Whether the storage is for a short period of 3 days (in between of deliveries), or for a longer period, the possibilities at our terminals are extensive. We take care of your goods according to your requirements. 
A complete overview of our activities can be found in our brochure.
Want to know more about bulk and silo?

 
Want to learn more about bulk and silo and how we can store it according to your needs? Contact us directly.
Challenging transport requests?
Bring it on.
We simplify. Whatever it takes.